Beaver Themer and The Events Calendar plugin
Beaver Themer has an integration with The Events Calendar plugin, which lets you design layouts for both Event archives and single event pages. The integration supports both the free and the premium versions of The Events Calendar plugin. This article focuses on the free version and gives you an overview of how the integration works and what types of Themer layouts you can create.
Basics of The Events Calendar plugin
The Events Calendar is really a custom post type. By default, events are posted on a page called events (mysite.com/events). This page is a custom WordPress index page, and by default, it displays events in three views:
Month view
Displays a visual calendar for the current month with events listed, with navigation to following months.
List view
Displays a list of upcoming events organized by month, as shown in this screenshot:

Day view
Displays a list of events for today, with navigation to each following day.
Clicking an individual event takes you to the single event page, which has all the details. This screenshot shows what the default single event page looks like: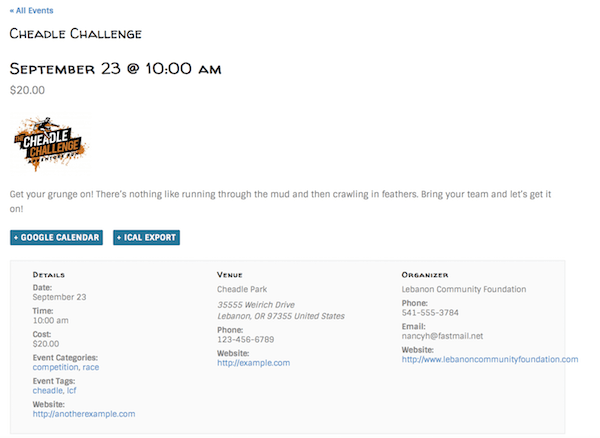 If you have assigned categories or tags to your event, you can click individual categories or tags in the event listing to see a list of all events in the same category or with the same tag. These are WordPress custom archive pages.
Beaver Themer layouts for The Events Calendar pages
You can create two different types of Themer layouts for The Events Calendar to replace the following default pages.
Use one or more Archive-type Themer layouts to override the main Events page and other pages that list events by category or tag.
Use a Singular-type Themer layout to override the single event page layout.
The advantage of using Themer layouts to build your events pages is that you have more flexibility in layout and style. For example, instead of displaying just the Month, List, or Day views on the Events page, you could add a banner, a heading, the calendar, and add a list of the next few upcoming events, as shown in this screenshot.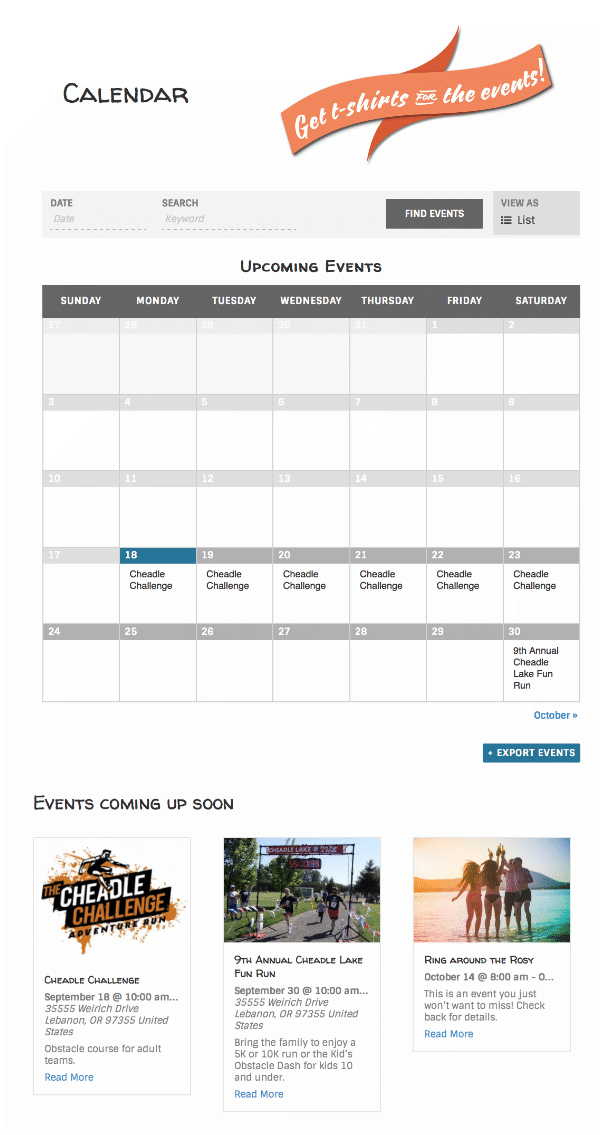 Tip
The Archive-type Themer layout overrides archive pages that are generated by WordPress -- in this case, the lists of events and single event pages that you normally see in The Events Calendar. If you want to embed portions of The Events Calendar plugin elsewhere on your site, such as display a list of events on a page, use the shortcodes and widgets provided by The Events Calendar plugin and various add-ons.